Part two in my gym journey, signing up to Flyefit Gym and my first gym session.
This is a sponsored post. I have received a free year membership in exchange for blogging about Flyefit Gym and posting on social media
On Monday night I got everything organised, printed off my promo code email and packed my gym bag. As I have been to a gym before I knew what I had to bring with me.
What's in my gym bag??
T-shirt
Leggings
MP3 Player
Small facecloth
Wrist sweatbands
Flip flops
Travel sized shampoo, shower gel etc
Padlock for locker
I also bring a large shower towel, a small turban style towel for my hair, sports bra and bottle of water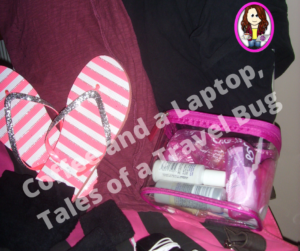 Some people go and buy specialised gym clothes, leggings etc but I don't. I just wear t-shirts and leggings which I already own.
Then on Tuesday after work I walked down the road to Flyefit Gym.
How to join Flyefit Gym
Flyefit Gyms are a bit different to the other gym I used to go to. They don't have a reception desk and you need to swipe a card to enter the building. Luckily there was a staff member just inside the door who let me in. I explained that I wanted to sign up and that I had a promo code. The staff member didn't know anything about what do with the promo code so just showed me how to sign up the regular way. So I did, adding my details screen by screen. It's a very simple and straight forward signup process. Then I got to the screen where it said enter the promo code, so I did, but uh oh, promo code not valid. I called the staff member over and he just looked blankly at the screen. He then went off to find someone else. Gee this is fun. So the second guy comes back and says ah ok, no worries, I need to get an admin staff to sort this out.
The staff were very nice and helpful and I got the feeling there is a lot of teething problems and they are just figuring things out as they go along.
Eventually it got sorted and my signup and registration completed. As I had been to the gym the week before I knew my way around. As part of the signup process there is an option to have a staff member give you a tour and show you how to use the machines.
I went down to the ladies changing rooms and the first thing I notice are all the signs on the wall and the changing rooms are now all clean and the hair-dryers installed. There are a few ladies getting changed but it's not too crowded. I find a spot to get changed and put my things in a locker.
My first gym session
Once I was ready, off I went for my first session. As I have previously been to a gym, I know what kind of fitness program to do. As I hadn't been to a gym in a while I decided to just do a cardio based program for the first day. I eventually found the machines I was looking for; the cardio area is in the upper front part of the building. But oh no, of course my short legs need the machines adjusted. So back down I go again to find a staff member to show me how to lower the seat on the stationary bike.
Finally I'm all set to go. Spend just over an hour, using the stationary bicycle, treadmill and cross trainer. The machines are pretty self-explanatory. Just press the on button and digital displays come on and you can choose what you want to do. One thing I do like is that on the treadmill I used, the speed control is on the hand-grip and you can increase the speed with your fingers without letting go of the hand-grip.
I haven't been to a gym for about 2 years and I know I'm not as fit as I was and my jeans size has gone up. I'm most defiantly not a typical gym bunny, I don't have the brand name gym gear, my hair is a mess and yes the horrors, my face is bright red and I sweat… a lot…
The one thing I like about Fyefit Gym South Circular Road is that it's not open plan. The cross trainer I used was in a random small room, with just 1 other cross trainer and about 5 treadmills. I didn't feel at all self-conscious using the machines or think people were looking down at me. I could just turn on my MP3 player and disappear into my own little world.
After about an hour, I knew my body was done. So found my way back down to the ladies and went for shower. The showers don't have any little shelf for holding your shower gel, so I need to go shopping and figure out something for next time. It's just a basic push button water control, which lasts for about two minutes. The water was a good temperature, not too hot and not too cold.
As I was getting dressed after my shower, the changing room was a lot busier than when I arrived.
All done I made my way back up the stairs. For those who may not be as organised as I am, there is a vending machine with bottle of water etc at the top of the stairs from the changing rooms.
There are two bus stops outside the gym and luckily I just had 10 minutes to wait for a bus.
My body this today does ache a bit but not as much as I expected. Going to the gym after work was a success, but I was home about 2 hours later normal. Next week I think I will go on my day off, in the afternoon and see how busy or quiet it is compared to the after work time.
For more information about Flyefit Gym SCR see their website http://www.flyefit.ie/