In February 2016 I spent 4 days at Disneyland Paris. I originally booked Hotel New York, with a hotel and parks ticket package, direct through Disneyland Paris website. At that time there were major construction upgrades in the park, with the Disneyland Railroad being one of the main ones. There was big construction skims around Main Street Railroad Station, which obstructed the view of Main Street and The Castle from The Disneyland Hotel. As a result people were not booking Disneyland Hotel and instead were booking Hotel New York.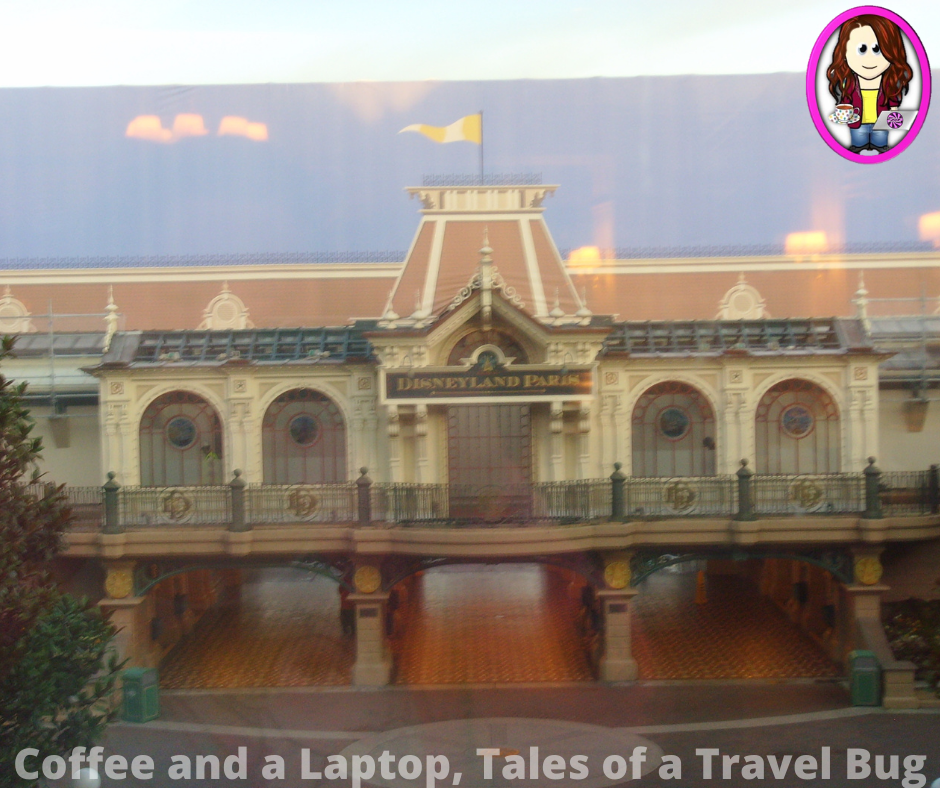 View of Main Street Station from California Grill restaurant Disneyland Hotel Paris, with construction scrims blocking the view of Main Street and The Castle in February 2016.
This is not a sponsored post. Other than the room upgrade, I have not received any payment or free gifts from Disneyland Hotel Paris, Disneyland Paris or The Walt Disney Company. I have not been asked to write a blog post or post on social media about my stay at Disneyland Hotel Paris or my time in Disneyland Paris Parks.
About 3 weeks before my arrival I got a phone call from Disneyland Paris and was given a free upgrade from a standard room at Hotel New York to a standard room at Disneyland Hotel. I think that Hotel New York was over booked and that the room assigners moved me from a room in Hotel New York with 2 double beds to a room in Disneyland hotel with 1 double bed to try to even out the room occupancy issues.
I fly from Dublin to Charles de Gaulle and then took the Magic Shuttle bus to Disneyland Paris. My hotel was the last drop off on the route and I was the last one on the bus.
Finally, at 12pm I get off the bus and the CMs help me with my luggage and hold the door open for me.
This is my first time in Disneyland Hotel and I stop for a minute in the lobby to take in the beautiful design.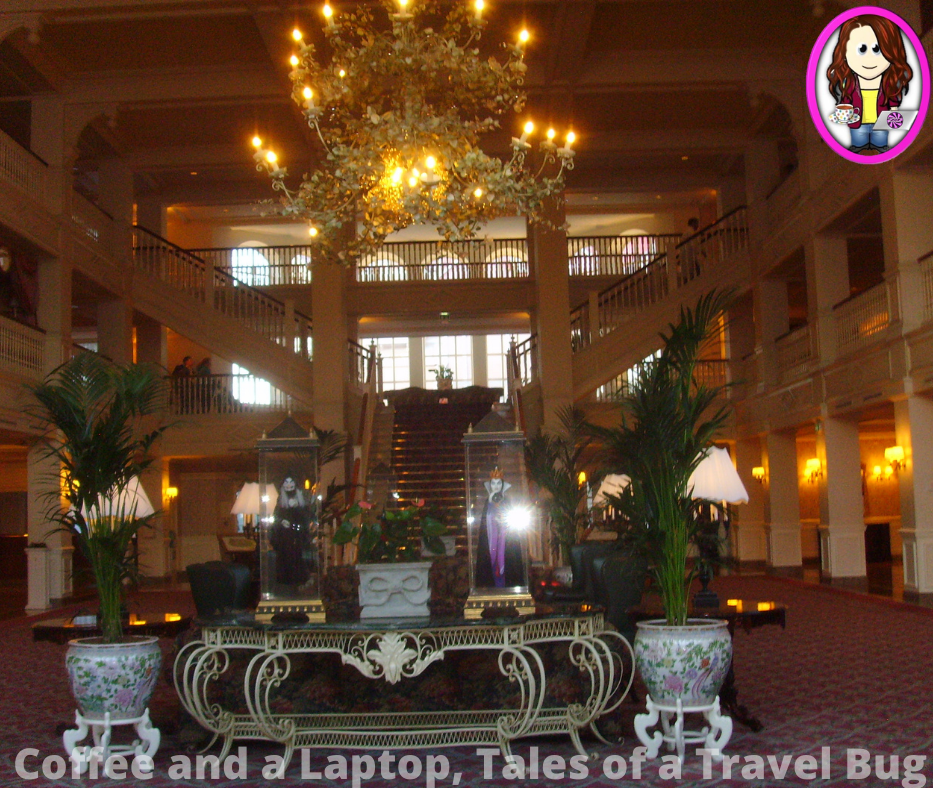 I first check my main bag at the luggage drop and then go to reception to check in.
As its only 12pm, my room is not ready, but I was expecting that. I am given my park ticket and I find the ladies room in the lobby to quickly freshen up and head to the parks.
At about 5pm I make my way back to the hotel. My room is ready so I get my key. The CM asks for my bag claim ticket and says she will arrange for my bags to be brought to my room. This is all very new to me and after getting directions to my room I find the lift to go to the 3nd floor. It feels odd not be dragging my suitcase, just my handbag and shopping bags.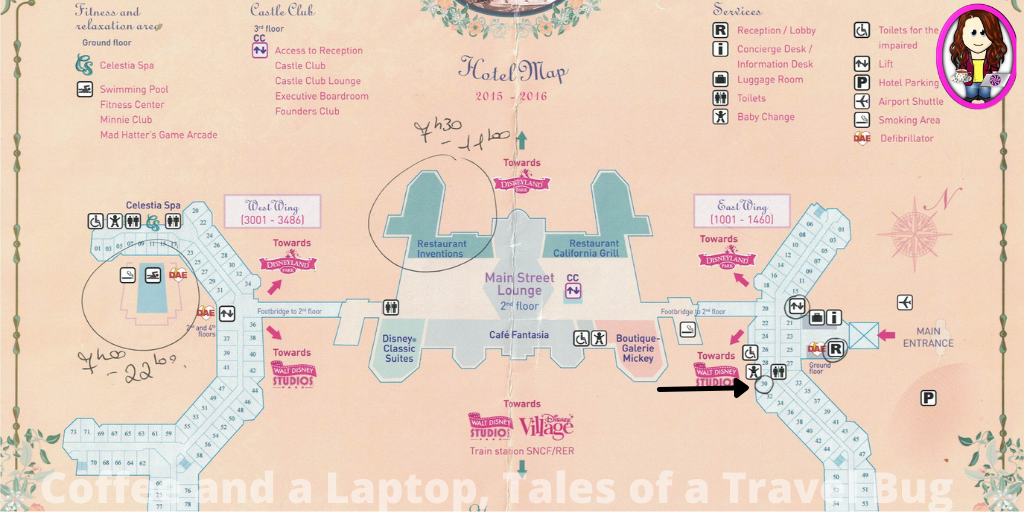 I am in room 1330 in the East wing and I can't believe how nice it is. It's just a standard room, but to me its heaven, as I usually stay in budget hotel.
The room has a balcony which looks out to Fantasia Gardens and has a very obstructed view of The Castle. Disneyland Hotel is the only onsite hotel at Disneyland Paris which has park views.
The wardrobe contains the safe, a Disneyland Hotel bathrobe and slippers.
In the bathroom are the lovely H2O shampoo and shower wash in the little bottles with the black Mickey heads. There are also the usual shower cap, soap etc as well as body lotion.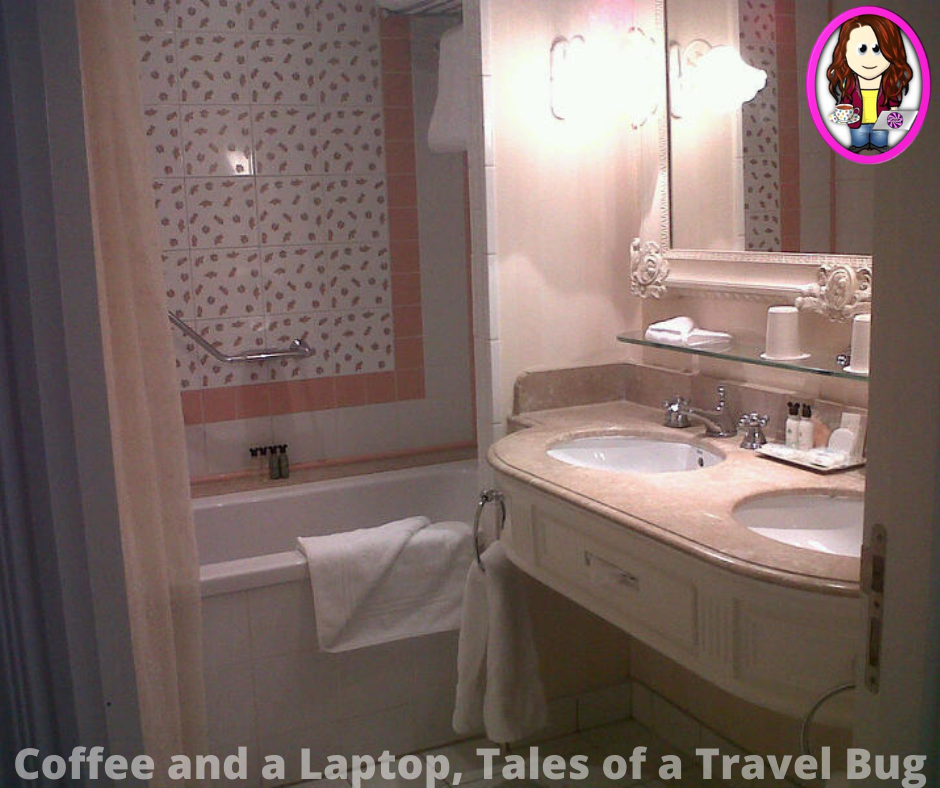 After freshening up and taking photos, I head back out to the parks again.
I decide to come back to the hotel at 7.45pm as the main night-time show, with fireworks and animations projected onto The Castle is at 8pm.
My luggage has found its way to the room and my large suitcase has even been placed on the luggage stand. The lights are on in the room, the curtains closed, the bed covers have been "turned down" and there are Disneyland Hotel chocolates on the pillows.
OK, I'm not going to lie, it's a very obstructed view and Im lucky that Fantasia Gardens and that side of the park is empty as the music is very faint and hard to hear. I can only see the higher up fireworks and lights and none of the projections. Some people pass by under my balcony and I can't hear the music with their chatter.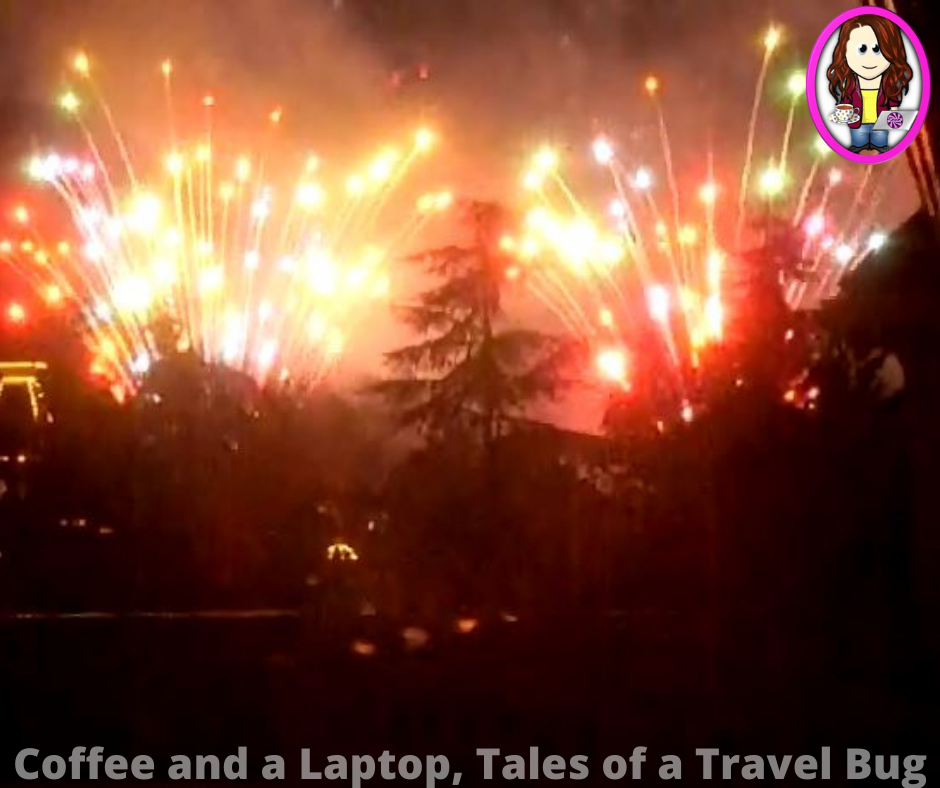 Disneyland Hotel is currently closed for refurbishment and most likely will reopen sometime in 2022.
This room is one of the smaller standard rooms and suitable for a max of 3 people. The sofa could have been converted into a small bed, however with the refurbishments, this could change.
There was some noise at park closing as people left and sounds drifted in but it was not very noticeable.
It will be interesting to see what the room refurbishment changes will be for this room. From a location and size point of view, it was perfect for me as a solo guest and I would request this room again.