Carlingford Oyster Festival Day Trip organised by Count Her In. The idea behind this group is for people who may be on their own or who don't know many people to find like-minded people to do things with, go to restaurants, days out etc.
This is not a sponsored post. I have not received any payment or free gifts from any of the company's mentioned. I have not been asked to write a blog post or post on social media about Carlingford or any of the other company's mentioned.
What is Count Her In?
They have had a few events before now which I haven't been free to attend.  Then a few weeks ago Georgina posted about having a day out to Carlingford and finally I was free on that day.   Georgina organised a bus, which we paid for to bring the group to and from Carlingford Oyster Festival.  There were two pick up points, Dublin City Centre and Drogheda. The day before a few of us were chatting on private message on Facebook to arrange meetup times and how we would recognise each other, as most of us had never met in real life, only chatted online.  Two ladies said they would have pink jackets, one lady said she would a red jacket.
The Journey To Carlingford Oyster Festival
On Saturday 6 August, it was an early start for me. I live in the suburbs of Dublin, so it takes about 40 minutes by bus to get to the city centre.  We were meeting the bus at 9.30am, so I got the 8am bus from where I live to the city centre.  Once in town,  I headed to Starbucks for my breakfast and coffee and then at about 9.10am made my way down the quay's to the Siptu building beside Butt Bridge.
I was sitting at the bus shelter when I noticed a lady wearing a pink jacket; I wonder if she is one of the ladies from the group. Then I saw a lady with a red jacket, stopping and talking to her. Ok this must be them, so I go over and ask. Success, we finally meet in real life. We don't see a bus on the river side of the building so we walk around the corner and there he is, our lovely bus driver and there is another lady on the bus. That makes four of us at the Dublin city centre pick up. We message Georgina, who is joining us in Drogheda to make sure we have everyone and then we are off.
As there is just the 4 of us on this part of the journey, we very quickly introduce ourselves and the chatter begins.  The four of us are all different ages and backgrounds but we find the talk just flows and before we know it, we are leaving the motorway and heading to the second pick up point.
Georgina and seven more ladies join us.  Again introductions are made and soon the bus is filled with chatter.
About 30 minutes away from Carlingford, the rain starts.  Oh no, but some ladies check the weather on the phones and tell us it will be ok, it's dry in Carlingford.
As we approach Carlingford, the rain does ease but as the bus parks its still a little damp.  We decide to wait a few minutes and sure enough the rain dries up and clouds clear.
Georgina had printed out a very basic schedule, as many of us had never been to Carlingford before, mainly just a rough idea of what events were on for the Oyster Festival.
Exploring Carlingford
We walk up from the bay to the pretty little village, hidden behind the ruin of King Johns Castle. The area has a medieval history and there is a local walking tour of the main sites. We decide to just wander up the streets to find a coffee shop to refresh after the bus journey.
We find a lovely little place called Magees Bistro on Tholsel St, and all 12 of us pile upstairs.  Coffees, teas, hot chocolate and scones all round as the chatter continues.
Once everyone was refreshed, we head out to explore the village.  There's a good buzz in the streets, lots of people around, now that the rain has cleared up. On Market Street there is the main hospitality tent of Carlingford Oyster Festival and we see our first fresh Oysters.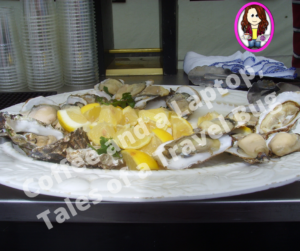 We continue wandering up Market Street and we find the most amazing antique shop on Dundalk Street called Crystal Antiques. Omg, I'm in heaven, this is my kind of shop.  I could spend hours in here, there's so much to see.  Some of the ladies just wait at the door and some move off up the street to the next shop. That's ok, it's a very casual day, no pressure to stay together as a group.  In fact one of the ladies is a keen photographer and wanders off taking photos instead of looking in the shops.
After rambling around the shops for a while we head back down Market Street. There's a lot more people around now as its lunch time and there's a great buzz from all the restaurants and bars.
Lunch
As we pass The Carlingford Arms, Georgina goes in and makes a table reservation for us in the restaurant.  We have some time to wait so head over to Taaffes Castle on Newry Street for a sit down and drink.
At 2.30pm we go back to The Carlingford Arms and we have a table right down the middle of the restaurant.  It's a really lovely restaurant, and the staff was well able for a large group like us. The  menu of course featured a wide range of seafood , from oysters to mussels and prawns and salmon.  There was also a wide range of meat and vegetarian for those who don't eat fish.
After stuffing ourselves in a very leisurely lunch, it was time to head over to the funfair and see some sheep shearing!  It looked like a great family day out, the kids really enjoying the funfair rides but us ladies decided to just observe rather than partake.  Irish TV were there, interviewing the Peal Girls.  The bus pick up time was 6.30pm so Georgina suggested a meet up at PJ O Haras Beer Garden. Many of the ladies including myself took a solo wander around, taking some photos of the bay, the village and some craft stalls which were part of the Carlingford Oyster Festival.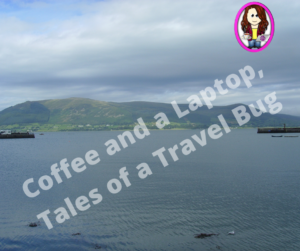 Last Orders Please
We all eventually met up again at PJ O Haras, and a chat about the day. Some ladies did a show and tell of their souvenir purchases. The beer garden was very busy but we managed to get a table and have a last drink before heading home. It looked to us that the Carlingford Oyster Festival celebrations would go on long into the night.
At 6.30pm we head back to the bus pick up location. The chatter continues on the bus home but it's a bit less animated now, as the tiredness sets in.
In Drogheda we say goodbye to Georgina and the other 7 ladies and then its just the 4 Dublin ladies again.
We make great time and are back at Butt Bridge just after 8pm.  We say our goodbyes and head off to get our bus back to where we live.
I really enjoyed the day, a lovely way to meet new people and do something different. As I don't drive, some places can be a bit hard to get to get for me, so having group transport organised means I can go out and about more.
Thank you so much Georgina, a very successful Count Her In day out.